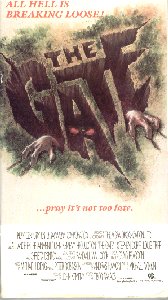 Movie of the Moment - The Gate
Short Synopsis: Two kids open the portal to hell that just happens to be in the backyard.
Added bonus: See Stephen Dorff as a kid in all his adorableness.
I'm also big into movies of all genres. My video collection is *HUGE*! So, basically, if I'm not wasting my money on music and CDs, I'm usually wasting it on movies at Best Buy. Favorite movie or actor? Too many to even list. Like, Harrison Ford, Gary Sinise, Chris Klien, Stephen Dorff, William H. Macy, Jason Lee, Ben Affleck, Chris Rock, Ian Hart, The Beatles, EWAN McGREGOR!, Bruce Willis, Tim Roth, Matt Dillon, Bruce Campbell, Samuel L. Jackson, Michael Keaton, Ethan Embry, Giovanni Ribisi, Matthew Broderick, Jason and Jeremy London, Steve Zahn, Christopher Walken.... Actresses are simple though... My favorites are Drew Barrymore and Winona Ryder. And accordingly, my movie collection is organized into The Gary Sinise Collection, The Bruce Willis Collection, The Ewan McGregor Collection, and so on.... So I'm anal retentive. Big deal.... *shrug* At least something in my room is in order.
Hard to pick a favorite movie, but I I had to pick anything at all, It'd have to be the ENTIRE Kevin Smith Jersey Collection (Clerks, Mallrats, Chasing Amy, and Dogma). Those movies are so hilarious.... I know them word for word, I've seen them so much.
I know I've totally lost my mind sharing these wonderful sites! *lol*
Now you know almost all my secrets!
My favorite Movie sites!:
for all the info on upcoming movies:
for all the info on upcoming movies:
for up to the minute movie times:
for some hilarious shit from Kevin Smith: