Fan sites:
One of my favorite sites and
The ultimate SR71 fan site: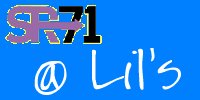 Go there for the Weekly SR71 Chat on Mondays!
If the mood strikes you and you feel like linking to me (which would be great if you do!) then just grab the banner below and link to:
http://members.tripod.com/luvsr71
Gracias!