The Happenings
*4-3-2001*
Hey! New news!:
Due to unforseen circumstances with the production scheduling of the video, SR-71 must unfortunately postpone their video shoot for "Another Night Alone" that was originally scheduled for this Tuesday @ Fletcher's...
The good news is that we now have to shoot two videos one for "Politically Correct" and one for "Another Night Alone" due to the fact that "Politically Correct" is currently blowing up in Europe! So we need more time to prepare for the double video shoot.
So, sorry everyone who was planning to go, but there is a show at Fletcher's scheduled for May 14th to make up for it, for be on the lookout for that! Also, if you have any concert/meeting/whatever SR-71 stories, you can send them my way for a fan section I want to start. Email me at
luvsr71@cs.com
if you have any questions or to send your story to me! Enjoy!~Sarah
Currently in the CD Alarm Clock: Band on the Run ~ Paul McCartney and Wings
Currently Residing in
Geo's
Tape Deck : SR-71 mix tape
Currently showing in the VCR: Valley Girl
*3-30-2001* (Take 4 @ 5pm)
Last update today, I swear (I only say that because I have to be at work in less than an hour *ha-ha!*)! This comes from the Nine Days list (I'm guessing it's their official Press Release):
NINEDAYS and Vince Tattanelli have VERY amicably decided to take a leave of absence from each other... sometimes you hear these things and all you get is a lame "musical differences" explanation, but in this case its true...Vince is going to spend some time working on other musical interests and we wish him well...having been friends and band members for the last 6 years it was a difficult decision for everyone, but in the end we all feel that it was the right decision...Dan Garvin (formerly of SR71) will be
joining us for the remainder of our tour that finishes at the end of May...While we will not make any permanent decisions until after the tour, we are thrilled to have Dan aboard...Having played many shows with SR71 in the past year, we already know that Dan is a great drummer and a great person...sometimes growth can a be a painful, but necessary, process...i'm sure we'll hear from some of you on the message board and we'll try to help answer any questions we can...thank you in advance for your continued support and consideration...see you on the road! ~Ninedays
I'm sure I speak for almost everyone when I say congratulations to Dan and his joining Nine Days for the rest of their tour and congratulations to John who has replaced Dan in SR-71. And, specifically to John, welcome to the insanity! *heh* Catch everyone on the flip side! ~Sarah
*3-30-2001* (Take 3 @ 11am)
O-o-okay. Another update. What can I say? It's a happenin' day! So, here's the total deals from Deepsouth:
The rumors are true... SR-71 has a new drummer!
Those of you who know the band from way back, or saw the band during December of this past year while Dan was sick will remember John Allan. John is a Baltimore native and has been a long time friend of the SR-71 camp. Be sure and give John a big "Welcome" when you see SR-71 on the Bon Jovi tour this Spring.
So what happened to Dan? It was a very amicable parting of ways. Dan still remains a very good friend of all of us. In fact, Dan will have some exciting news to share with all of you early next week!! We are
excited for Dan and wish him the best on his new endeavors!
Okay, so, there it is. :) Now! For some fun for those of you who live in and/or around the Baltimore area:
BE IN SR-71'S VIDEO for "ANOTHER NIGHT ALONE"!! SR-71 VIDEO SHOOT IN BALTIMORE THIS TUESDAY!!
We are shooting the video for "Another Night Alone" at Fletcher's in Baltimore this Tuesday, April 3rd.
If you would like to be in the video for "Alone" all you have to do is show up at Fletcher's this Tuesday
afternoon at 3:30pm (you can get there as late as 5:30pm and still get in) - The shoot will last till 8pm or so. If you come, wear what you would wear to come see us in concert.
Fletcher's is located at 701 South Bond Street - Baltimore,MD - For directions go to:
http://www.930.com
(there's printable directions).
If you go to the video shoot, I'd love to hear the details (since I so wish I could go to at least see it *heh*) and would be more than happy to post your accounts on the site in a special section! Send me an email to
luvsr71@cs.com
. So, until another update, see ya! ~Sarah
Currently in the CD Alarm Clock: The Best of The Who
Currently Residing in
Geo's
Tape Deck : SR-71 mix tape
Currently showing in the VCR: Moonstruck
*3-30-2001* (Take 2 @ 3am)
I just recieved this in my mail like, a few minutes ago... (My email is slow, I tell ya!) It's not the official press release, but it is from the Deep South Camp:
"Yes the rumor is true, Dan is no longer in SR-71 and John Allan is the now behind the drum kit. John is no stranger to the band and played drums while Dan was sick in December... If you look in the CD, John is listed as a "5th Beatle" and has truly been part of the SR-71 extended family since the beginning.
Actually I'm surprised it took the nationwide network of fans this long to figure it out considering John has been playing drums for a week now! You guys are slow! :)
An official press release goes out tomorrow morning to this list and to the general e-mail database of 10,000+ fans.
PLEASE let's not get carried away with rumors. I talk to each of the guys several times a day and everyone (including Dan) is very happy with life and very happy with what the future holds.The remaining members of the band and Dan are still great friends and hope the best for each other."
Well, while we'll all miss Dan (he's a great drummer!), I'm sure John's going to be great! (I've only seen them play with Dan.) I'll put up the official Press Release about it when I get ahold of it! ~Sarah
P.S. I figure with this update to the update, I needed to make some attempt at a change.... So dig the new background!
*3-30-2001* (Take 1 @ 1am)
RUMOR: Dan is leaving/has left SR-71.
ANSWER: I have no worldy idea.
I do know that it's been brought up on the SR-71 E-group list, but I personally do not have any clue if it's true or not. Please, don't send me emails asking. Besides, by the time any info gets to me, everyone else already knows it anyway. *lol* Drawback to living in South Texas, I guess. Anyway, anyone who is on that list knows how quickly rumors get out of hand on there. So, true or not, we all wish the best of luck to the band *whatever* their line-up is like. It's really all about the music anyway. So, let's not have any kind of Pete Best/Ringo Starr type thing go on. And I'll end my manifesto (*heh*) with a quote by the Moody Blues just cause I really like it! Besides, with a lead in like that, why not? *lol* ~Sarah
"When the music plays, I hear the sound, I had to follow." ~Moody Blues
Currently in the CD Alarm Clock: The Best of The Who
Currently Residing in
Geo's
Tape Deck : SR-71 mix tape
Currently showing in the VCR: Kids In The Hall's Brain Candy
*3-29-2001*
Was I the only one P.O.ed about the Oscar results? Julia Roberts? I mean, come on. And Russell Crowe? Please. As you can tell, I was finally able to see the Oscars that I taped on Sunday. (Quite a feat when you think of all the media coverage...) Anyway, Ed Harris and Willem Dafoe were totally robbed. As was Joan Allen, but no one cares to hear what I think of that. *heh* So, we forge on with the update! Nothing major really. Just a few tweaks here and there. Just thought I might say something incase something seemed a little out of place. So, enjoy! ~Sarah
Currently in the CD Alarm Clock: Chairman of the Board ~ punk/rock covers of Frank Sinatra's Greatest Hits
Currently Residing in
Geo's
Tape Deck : Tragic Kingdom ~ No Doubt
Currently showing in the VCR: Enemy of the State
Link back if you take anything! ~Sarah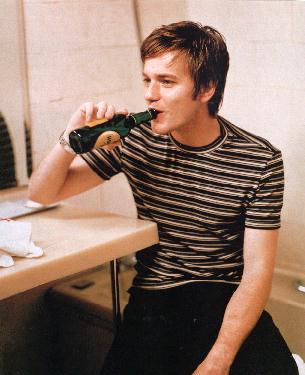 *******************************************************************************************